VINYLS
The Virgin disc label designs/logos related to years:


Roger Dean was the designer of the original famous Virgin label with snakes and dragons.



For LP's following designs were used:


1973-1974 1973-1976 1975
white Roger Dean label coloured Roger Dean label fawn & mauve Roger Dean label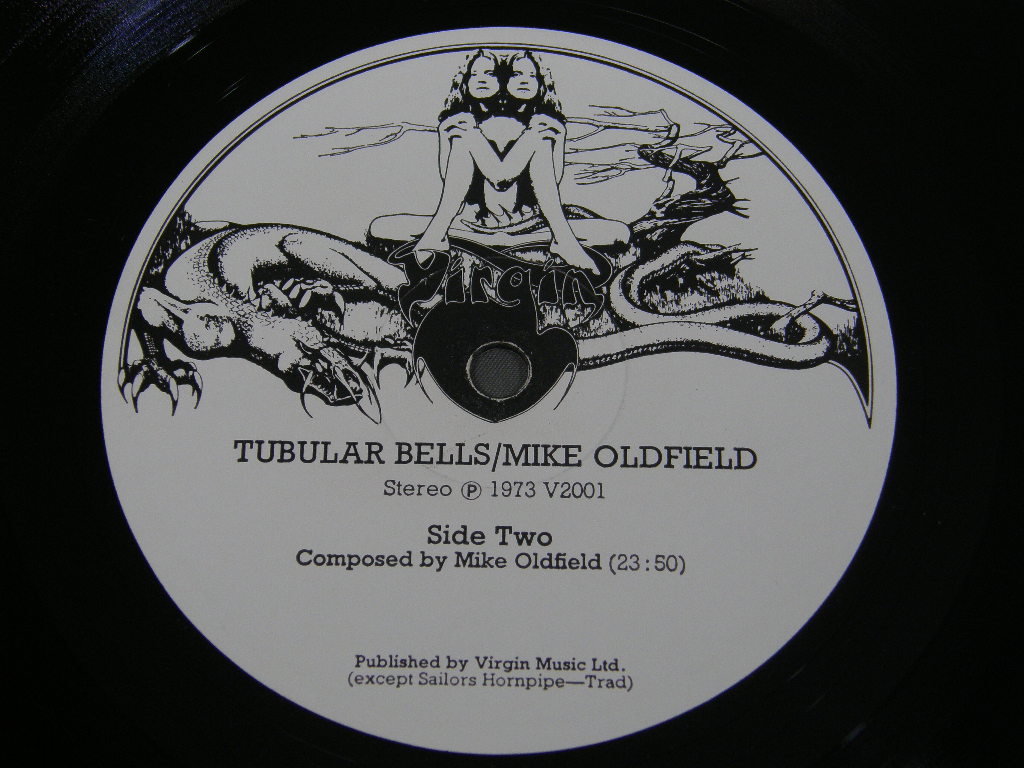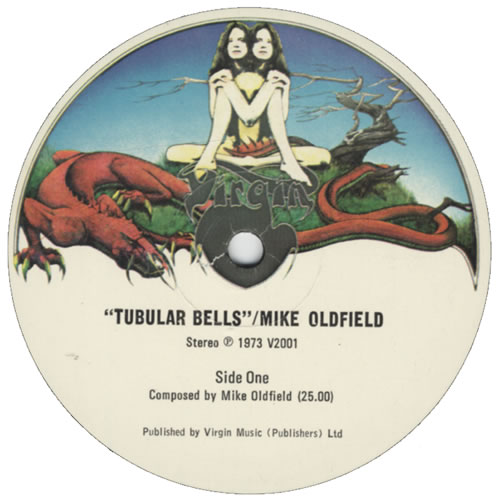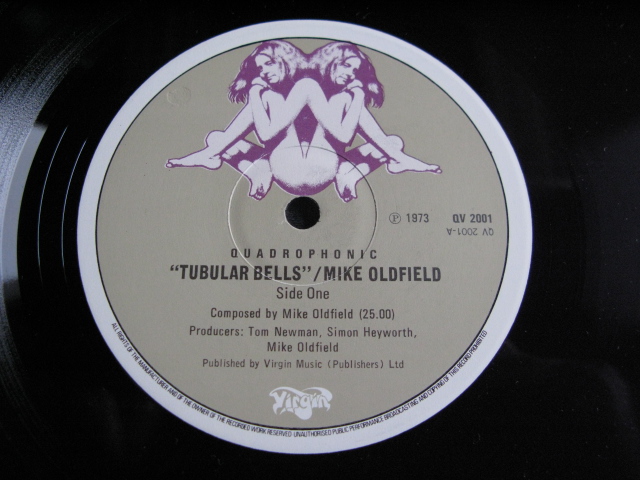 1975-1976 1975-1976
Red twin label with Outer White Ring Green twin label with Outer White Ring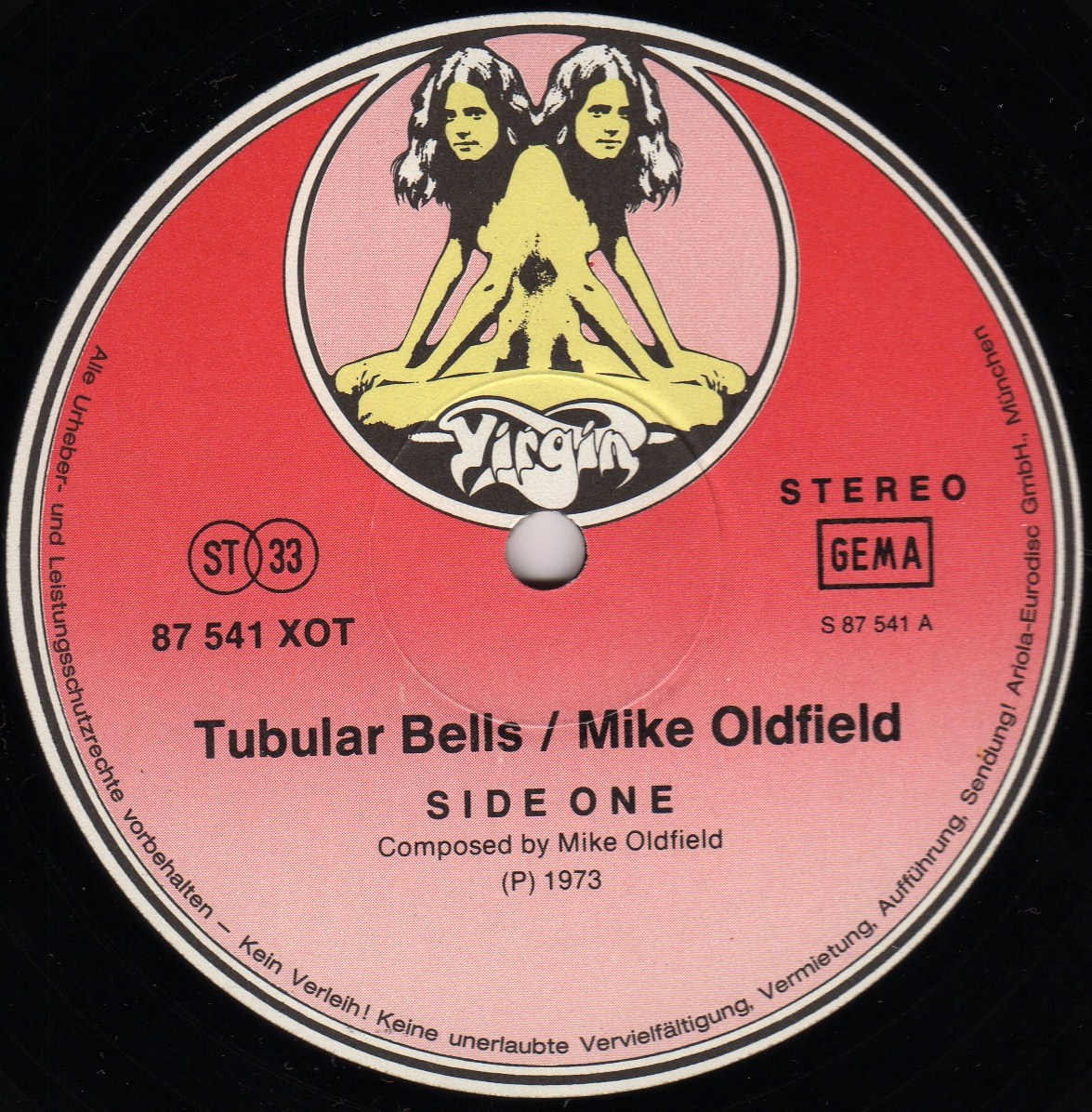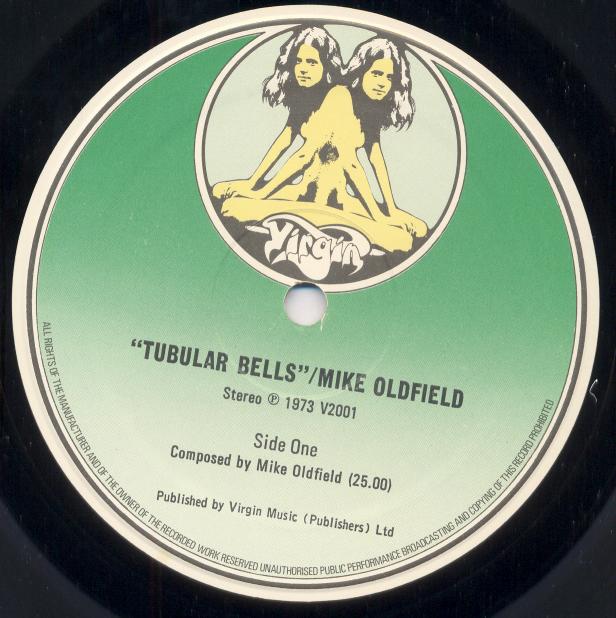 1976-1978 1976-1977
Green twin label (without outer white ring) Red twin label (without outer white ring)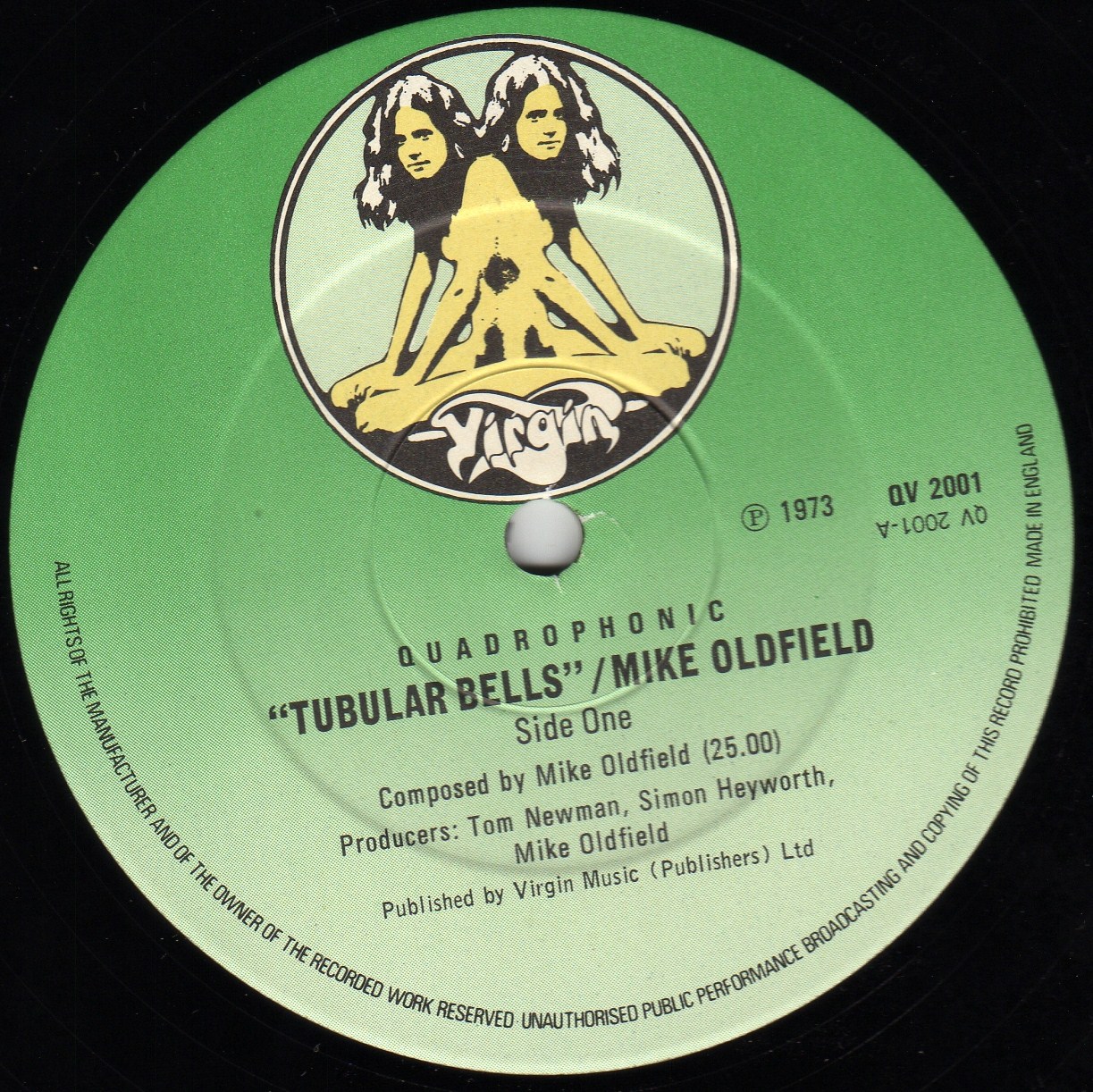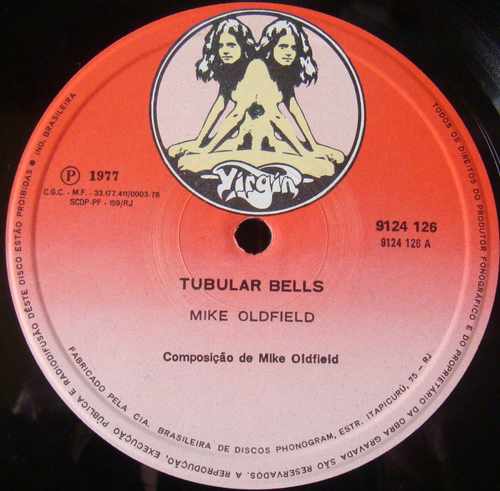 1976-1978 1978-1987 1987-xxxx
blue label with double green/red alternative label grey-white label
Virgin writing logo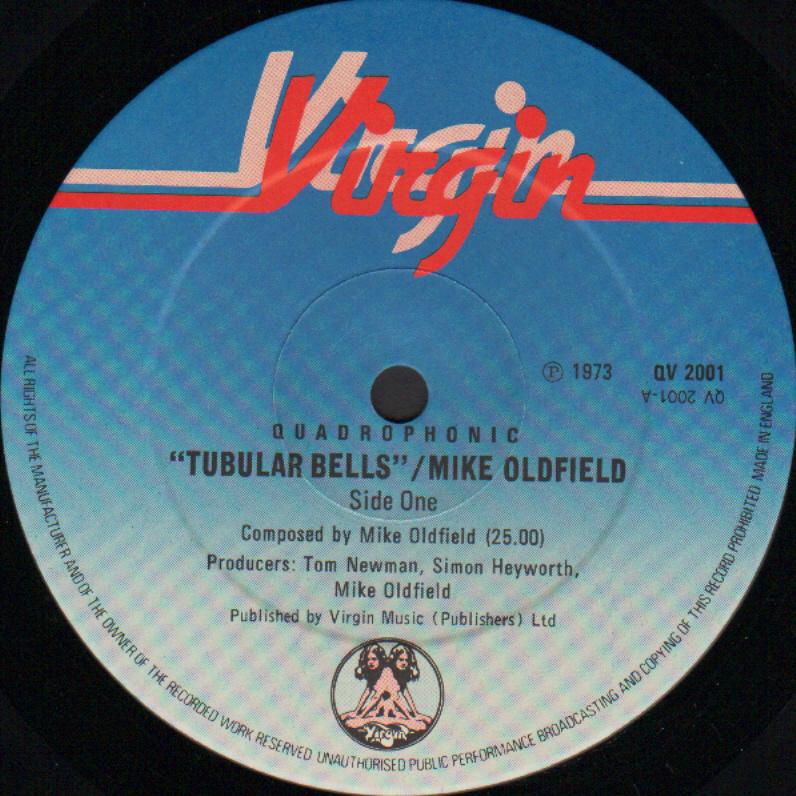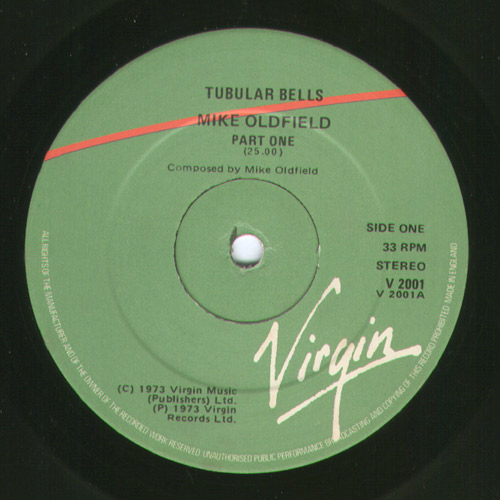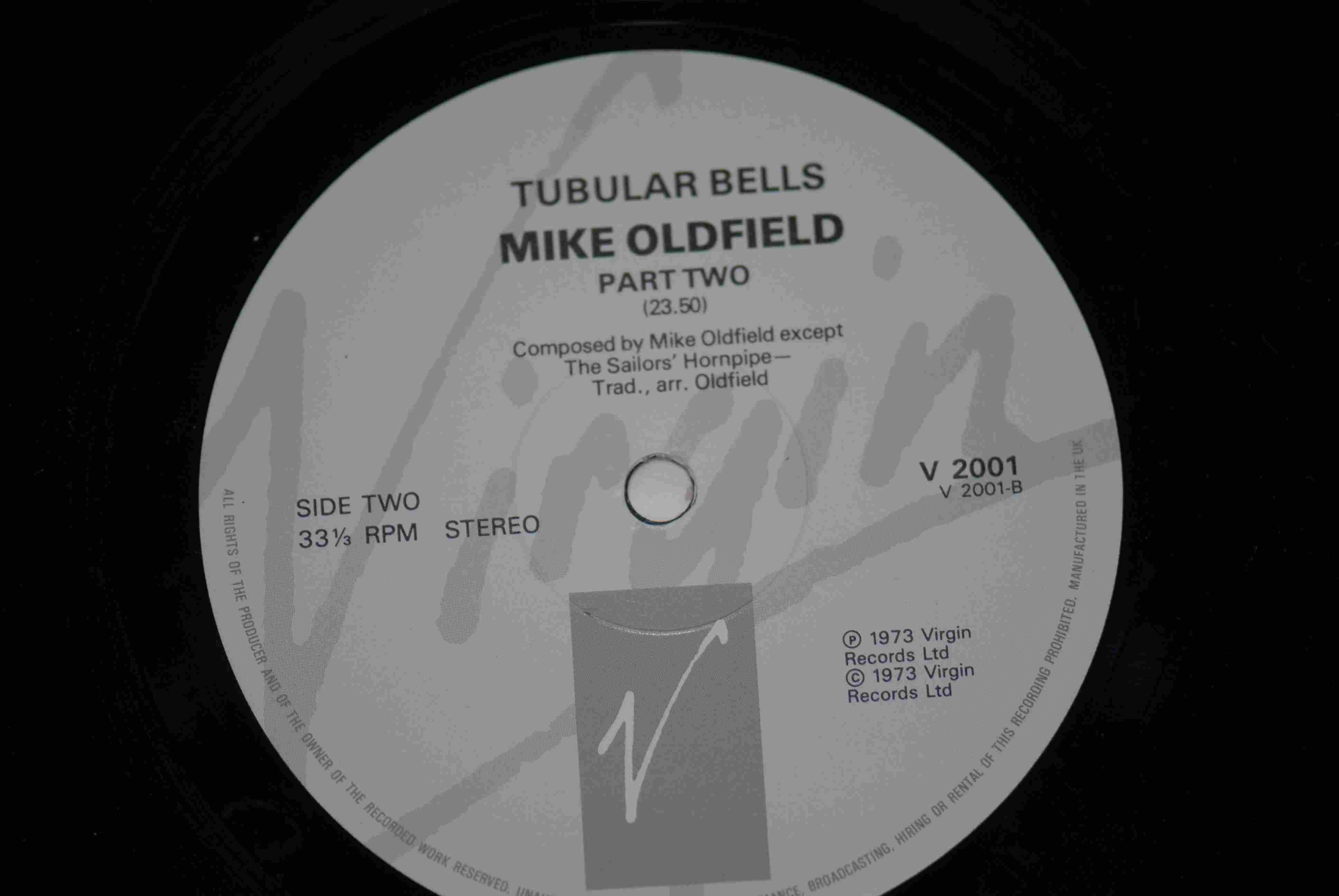 Virgin Canada only 1983-1985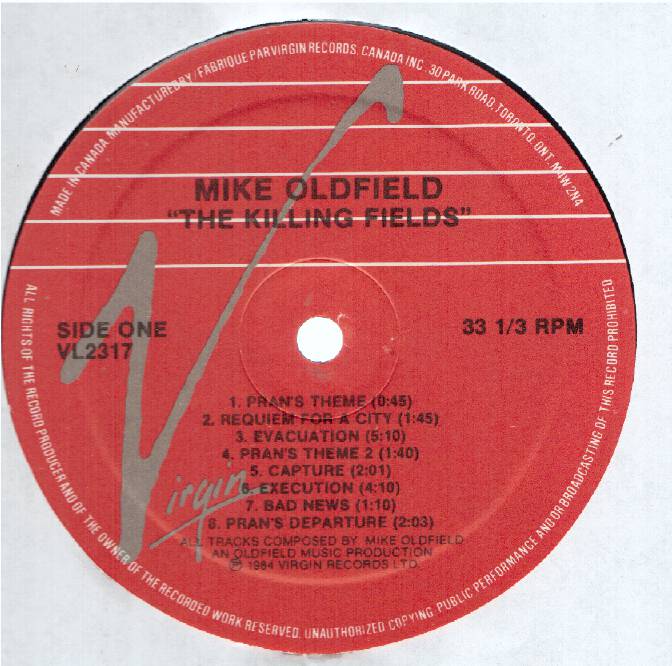 Probably the fawn & mauve Dean label should replace the coloured Dean label in summer 1975, but has been used only a very short time. The fawn & mauve Dean label hasn't been used outside UK.
Red and Green labels with white outer ring replaced the fawn & mauve Dean label. These can be found on several Virgin albums outside UK, It was used in UK a very short time only. The green twin label (without outer white ring) is easy to find. It has been used originally in 1976 but it is also available on reissues of older releases. In UK it has been used till 1978, but in other countries (Japan, Spain, ...) there are records up to 1982 with this label. During this period a few titles were pressed with Red twin label (without outer white ring)
The blue label with double Virgin writing logo is well-known on single releases but it has also been used on a few albums.
Green/red label ended in 1987 (UK), but in different countries it has been used longer (Spain 1990, Germany 1988).
The grey-white label is still in use since 1987 (UK). The grey-white label has been published some months later in foreign countries (1988).
Rights societies:
1973-1981 1982-1983 1983-xxxx

Stemra: 1973-1981
LC number:
The label code (LC) was introduced in Germany in 1977. It may appear on backcovers and/or the vinyl label

CDs
Here it is a table of common pressing plants of Oldfield cds to help to date CDs.
Built By / Subsequent Owners

CC

Location

CDs Prod
Online

Closed

Capitol-EMI

US

Jacksonville, Illinois

ca. Oct 1986

mid-2004

Digital Audio Disc Corp. (DADC) / Sony DADC AG

AT

Anif, Salzburg

ca. 1987

To be determined

Disques Americ Inc. (Americ Disc)

CA

Drummondville, Quebec

ca. 1987

tbd

EMI

UK

Swindon, Wiltshire

15 May 1986

2002

EMI Compact Disc (Holland) / MediaMotion (2004)

NL

Uden

ca. 1990

2004 changed to mediamotion

MPO / Mayking

FR

Averton, Mayenne

Dec 1984

tbd

MPO Iberica

ES

Madrid

tbd

tbd

MPO Siam

TH

Bangkok

tbd

tbd

Nimbus

US

Greene County, Virginia

Q2? 1987

tbd

Nimbus

UK

Cwmbran, Wales

Sep 1986

tbd

Nimbus

UK

Wyastone Leys, Wales

Aug 1984

tbd

Sonopress

US

Weaverville, North Carolina

1991

tbd

Sonopress

DE

Gütersloh, Nordrhein-Westfalen

Q4'85/Q1'86

tbd
Pale blue CDs were the first Oldfield CDs, and were made by PDO in West Germany and in the UK. CDs for Tubular Bells, Crises and Five Miles Out all came out in May 1983, for the 10th anniversary of Tubular Bells. Crises was the first album that was released on CD and LP simultaniously that same month.
UK CD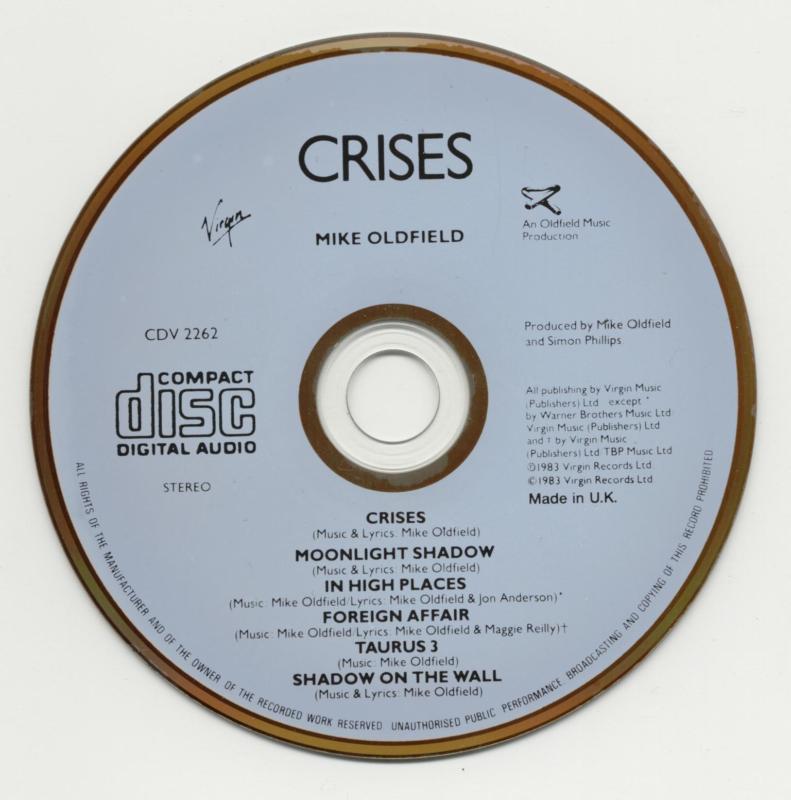 German CD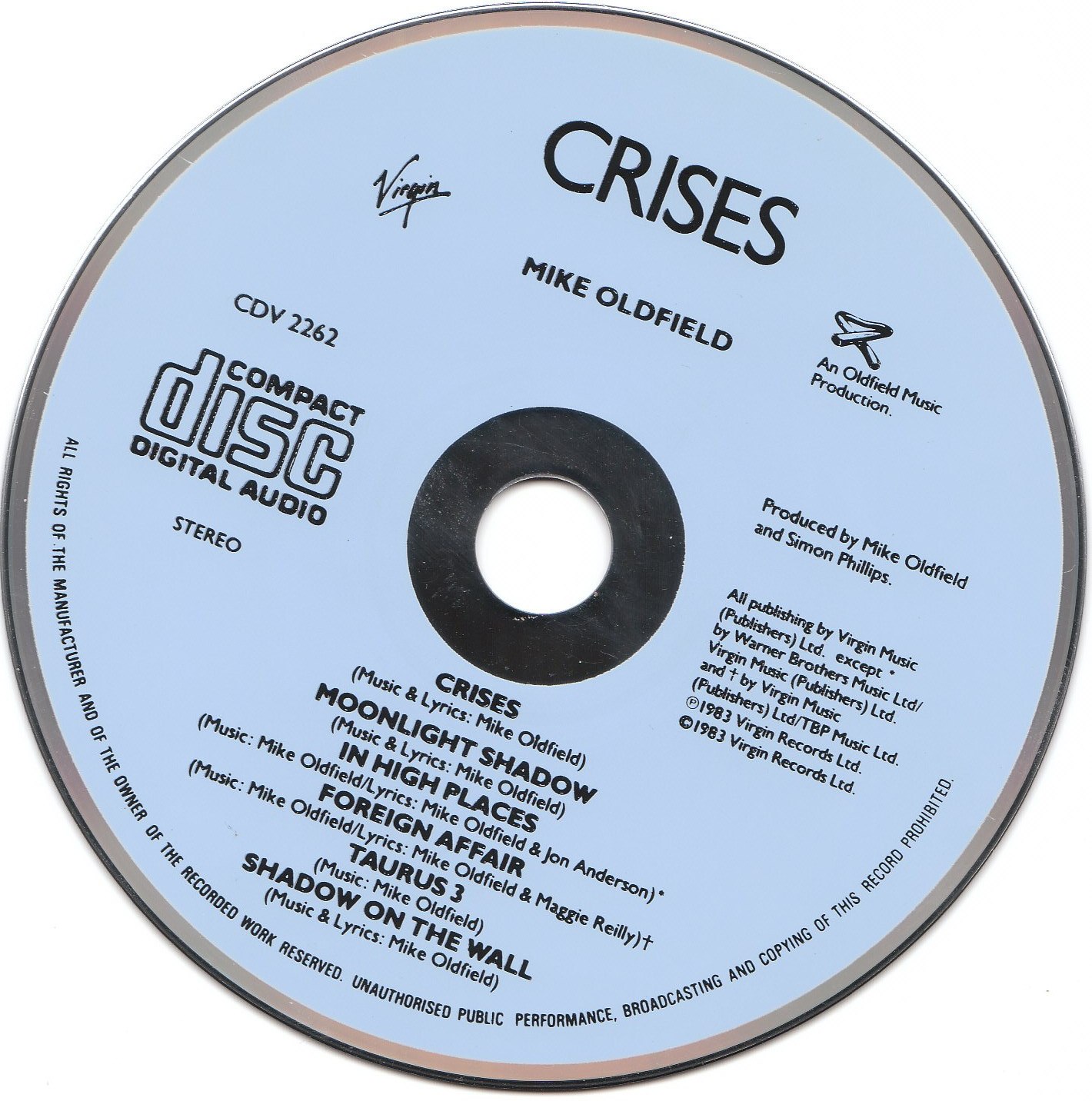 Virgin switched to Nimbus UK for primary pressing in 1985
Igual llega un poco tarde pero bueno, como guía para mejorar la datación...
Seguiré editándolo
Mensaje editado el 14/03/2013 23:30:32 por Javishadow
Mensaje editado el 14/03/2013 23:51:36 por Javishadow
Mensaje editado el 14/03/2013 23:56:51 por Javishadow
Mensaje editado el 15/03/2013 0:28:21 por Javishadow
Mensaje editado el 15/03/2013 1:49:43 por Javishadow
Mensaje editado el 16/03/2013 16:37:18 por Javishadow
Mensaje editado el 13/04/2013 17:41:38 por Javishadow
Mensaje editado el 13/04/2013 17:43:54 por Javishadow
Mensaje editado el 13/04/2013 17:45:20 por Javishadow
Mensaje editado el 15/04/2013 20:12:39 por Javishadow
Mensaje editado el 15/04/2013 20:48:15 por Javishadow
Mensaje editado el 15/04/2013 20:49:43 por Javishadow
---