14 April 2020
2 Meinungen
(Gesendet von fairlight)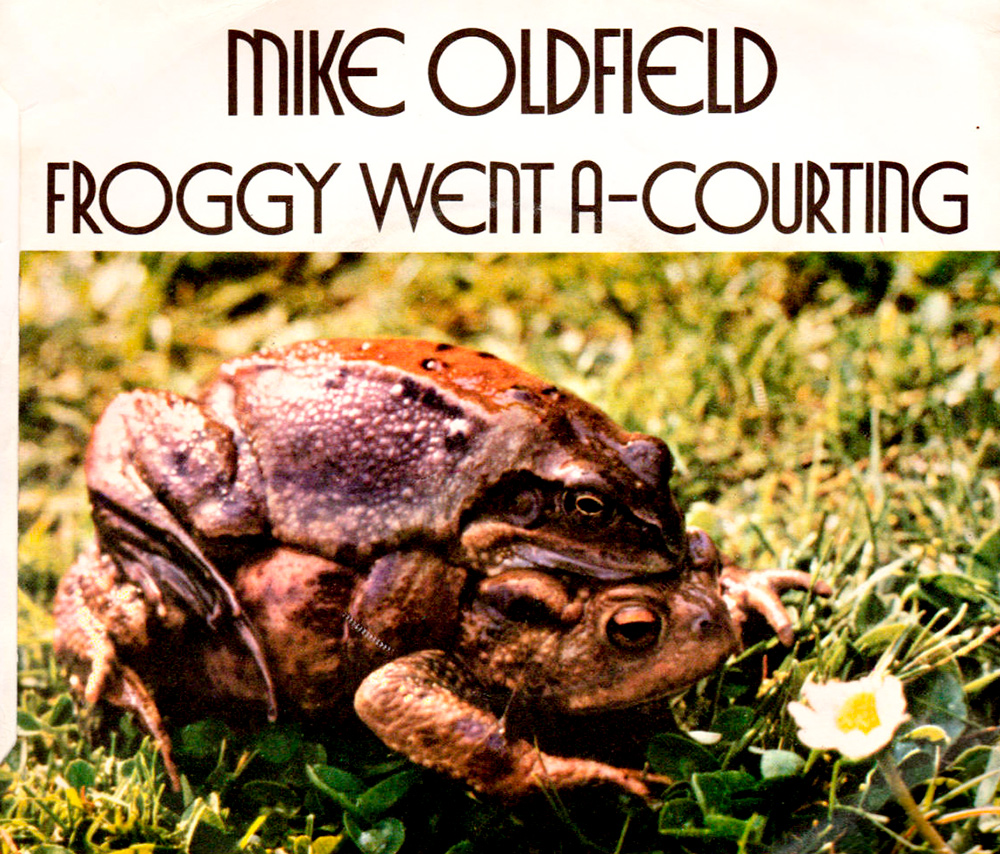 Froggy Went A-Courting es una canción escocesa de origen medieval que trascendió durante generaciones y pasó a ser parte del folclore del Reino Unido. Llegó hasta nuestros días convertida en una canción infantil, y también ha sido versionada por infinidad de artistas en casi tantos estilos como han ido apareciendo y trascendiendo desde principios del siglo XX y hasta nuestros días.
En 1974, en pleno éxito internacional de Tubular Bells tras el estreno de El Exorcista, se le encargó a Mike Oldfield el lanzamiento del que sería su primer single de cara a la promoción del disco. Mike, decidió regrabar un fragmento de la Parte 2 del álbum para la cara A del 7".
Para la cara B Mike optó por algo inédito: grabar una versión de Froggy Went A-Courting, publicando así su primera "canción" con letra. Aunque nunca se ha podido verificar, parece claro que todos los instrumentos fueron grabados por el propio Mike, quién también pone la voz, junto con David Bedford al piano, Lol Coxhill al saxo y Bridget St. John como voz adicional (aunque hay quien asegura que la voz es de Vanessa Branson, hermana de Richard).
Como curiosidad, la versión alemana y la del Benelux del single incluyeron una mezcla alternativa, con el mítico verso "The owls did hoot and the birds they sang" recitado por el propio Mike en lugar de por la vocalista femenina de la versión original.
Otra curiosidad: Romina Power usó la base instrumental íntegra de la grabación de Mike para su propia versión del tema, publicada en 1975 bajo el título Paolino Maialino (escuchar).
Desgraciadamente, esta canción pasó a la posteridad únicamente como cara B del Mike Oldfield's Single. Nunca se rescató en ningú recopilatorio y reedición posterior. Es más, también se descartó (se dice que por veto expreso del propio Mike) en la reedición de Tubular Bells de 2009.
La gran noticia es que en abril de 2020 por fin podemos disfrutar de una digitalización y restaurada del Froggy Went A-Courting de Mike Oldfield, gracias a la labor del compañero del foro Rachmaninov (gran artista y mejor persona).
Podéis descargarla directamente en la sección Multimedia en el siguiente enlace:
/// ACTUALIZACIÓN 18/04/2020
Tenemos nueva restauración a cargo de Rachmaninov: el Theme from Ommadawn, una versión edit de 3'30" del tema principal de Ommadawn que se publicó en 7" en Francia, EEUU y Canadá, y que también cayó en el olvido para la última (¿y definitiva?) remasterización de Ommadawn.