3 February 2017
14 Opinions
(Sent by fairlight)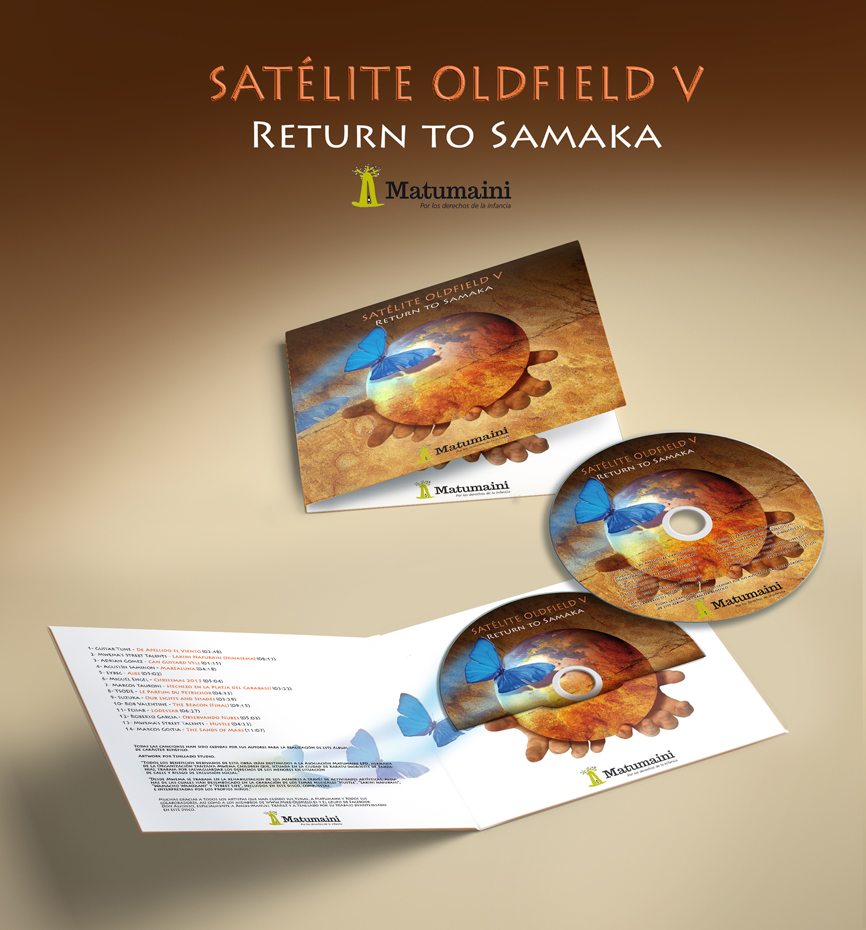 A finales de 2006 se empezó a gestar en el foro de esta página web un proyecto musical llamado Satélite Oldfield, una recopilación de temas propios de varios miembros habituales del foro, en su gran mayoría inspirados en la música de nuestro admirado Mike Oldfield. La experiencia se repitió en tres ocasiones más, la última de las cuales en 2010, Satélite Oldfield IV: Samaka, consistió en crear una gran suite dividida en dos partes, compuesta e interpretada también por varios foreros, dedicada a un desaparecido miembro de la web.
Cuando se cumplían 10 años de aquella primera experiencia y coincidiendo con el inminente lanzamiento de Return to Ommadawn, el compañero Fuel, alma y catalizador del proyecto durante todos estos años, propuso la creación de la que sería la quinta entrega e ir más allá. Satélite Oldfield V: Return to Samaka sería un disco benéfico cuyos beneficios irían destinados a la ONG Matumaini de ayuda a niños y niñas en situación de calle o riesgo de exclusión social en Karatu (Tanzania). Además, el disco incluirá 2 temas interpretados por niños y niñas asistidos por la ONG Mwema Children (y otros 2 en el EP adicional).
Tras una coordinación en tiempo récord por parte de Fuel, y con la colaboración de más de 15 artistas admiradores de Mike Oldfield y con diseño de Tenllado Studio, Satélite Oldfield V: Return to Samaka se ha hecho realidad y hoy 3 de febrero de 2017 se abre la pre-venta de la edición en CD y digital.
El CD, en edición digifile limitada (como podéis ver a la derecha) incluirá 14 temas, más un Bonus EP digital con otras 6 canciones. El precio es de 10€ y todos los beneficios se destinarán íntegramente a la ONG Matumaini. También se podrá adquirir en formato digital por 5€. Podéis encargarlo en:
https://sateliteoldfield.bandcamp.com
Los Satélite Oldfield se han caracterizado por aunar un eclecticismo musical que tiene el influjo de Mike Oldfield como hilo conductor: desde el folk y el progresivo, al ambient, new age y electrónica, en una cautivadora fusión de estilos.
Entre los miembros del foro que participan están: Guitar Tune, Adrián Gómez, Agustín Saminon, Eybec, Miguel Engel, Marcos Tauroni, TSODE, Suzuka, Rob Valentine, Feisar, Roberto García, Marcos Goitia, Dani Mena, Marcos, Joni y Alberto, Jaime Parada y Álvaro Núñez.