Durante bastante tiempo había tenido entendido que la gira de presentación de Platinum, la célebre In Concert 1980, había tenido una previa en un concierto en la Universidad de Lancaster, el 13 de abril de 1980. Así consta en tubular.net.
Sin embargo, según este artículo publicado esta setmana, se asegura que ese concierto fue en en el Sindicato de Estudiantes de la Universidad de Dundee, en Escocia.
https://www.thecourier.co.uk/fp/nostalgia/1265719/the-night-tubular-bells-world-superstar-mike-oldfield-performed-cut-price-gig-for-dundee-students/
[dejo aquí el texto del artículo, y la foto de una entrada a aquel concierto!]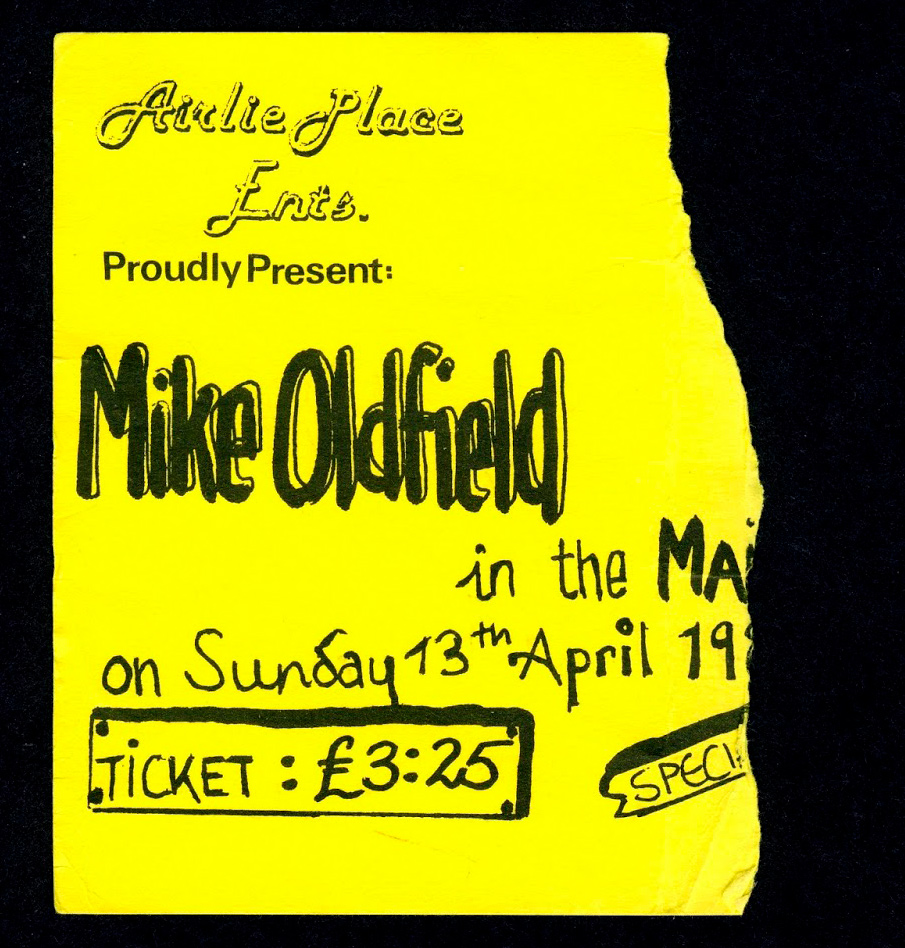 Famed electronic composer Mike Oldfield played a warm-up gig in the unlikely setting of Dundee University Students Union "for about a tenth of his normal fee".
Oldfield rose to global fame on the success of Tubular Bells which was used in William Friedkin's 1973 film The Exorcist and has sold 17 million copies.
Former British ambassador Craig Murray was DUSA treasurer in 1980 when Oldfield performed in front of just 1,100 people in Dundee 40 years ago this very week.
"Oldfield was going on a massive tour with his new album," said Mr Murray.
"Of course as a multi-instrumentalist his tour was technically quite a thing to put together and also involved a lot of video projection which was absolutely groundbreaking at that time.
"He therefore wanted to do a kind of dress rehearsal gig away from critical media eyes.
"That is why he was performing at DUSA for about a tenth of his normal fee."
Mr Murray, who went on to become DUSA president from 1982-84, said he was amazed by Oldfield's showmanship.
"Stuart Clumpas and John Reid, our simply brilliant entertainments conveners, came in and told me he had got the offer of Mike Oldfield," he said.
"I just looked at him in sheer disbelief. "Stuart was simply a genius in the music business.
"They went on to open Fat Sams and of course found T in the Park."
Clumpas managed to bring The Pretenders, UB40 and Def Leppard to perform at the venue in 1980.
Mr Murray continued: "In those days our main hall could take 1,100 for a gig and the fire regulations must have been a lot more relaxed.
"The production needed for the gig was a huge technical challenge and our crew rose to it magnificently.
"I seem to recall that it was in a holiday period that the offer came through and I am not sure the gig even took place in term-time.


"Uniquely, it wasn't just that the gig was performed in our hall, he was actually using it as a rehearsal space."


Oldfield performed the 19-minute title track from his 1979 album Platinum to start the gig in Dundee.


Set highlights included Tubular Bells, Blue Peter, Portsmouth and a cover version of the Johann Strauss masterpiece The Radetzky March.


Mr Murray said: "The gig was really amazing.


"All these years later, the real truth is that my memories of the evening focus more on the girlfriend I was with than on the music.


"It was the only gig I can ever remember in the main hall where a lot of people seated themselves on the floor."


Mr Murray said there was also a "strong smell of pot" which was also unusual.


"As I was the treasurer, I can also tell you that the bar sales were also quite incredible," he added.


"By a strange chance I am nowadays a director of the Doune the Rabbit Hole and Eden music festivals."


The Dundee gig was also when he first performed with Maggie Reilly who had been a member of Cado Bello from 1974-79.


Oldfield's girlfriend at the time was a big fan of the soul outfit and recommended her as a singer and they worked together for the next four years with hits including Family Man, Moonlight Shadow and To France.


Reilly said: "At first I thought that Mike Oldfield's music does not fit with my musical tastes, but in the end turned out very interesting collaboration.


"Before that, I was singing jazz funk thing, it's totally different style of music.


"Sometimes our relationship with Mike was experiencing difficulties, but the union was very productive, and together we have created a truly original music."


Moonlight Shadow became Oldfield's most successful single, reaching number one on a number of charts around Europe.


Family Man also gave Oldfield and Reilly chart success but it reached even greater heights in the American Top 10 after being covered by Daryl Hall and John Oates.


Following the Dundee gig, Oldfield would go on to play Wembley Arena the following month before performing to 45,000 at Knebworth in June 1980.
- - - - - - - - -
Según Dark Star, además de en la universidad de Dundee Mike tocó en otras universidades, aunque hay algún baile de fechas: Loughborough Uni 11/4/1980; Lancaster Uni 12/4/1980, Strathclyde Uni 13/4/1980, Dundee Uni 14/4/1980, Bradford Uni ?/4/1980.
---